Like the story of the shoemaker's son that having no shoes, there are those of us – Interior Designers – who put our own spaces at the bottom of a very, very long list. Many Designers have awe-inspiring homes that clearly reflect that a great deal of time, care and money has gone into creating a space that is entirely their own. While I love my space and it feels like home, I spend so little time there it's more of gallery for my collection of art, books and shoes. It is forever a dumping ground for vintage pieces that I swap in and out and move into clients homes or a graveyard of furniture pieces that didn't work in an installation (oops!). One of the biggest struggles many Designers have when designing their own space is that we had a hard time settling on a style as we are exposed to and have a deep appreciation for so many aesthetics – which only grows more challenging as you mature into your profession and see more and more.
So, when I had the opportunity to design our new studio from scratch, you can image that I was a little dumbfounded (sometimes I fantasized about hiring someone else to do it.) Ultimately, instead of designing a space that would attract a certain clientele, I opted to design a space that was inspired by my favourite places in my travels. With that in mind, my top three spots in the year prior to COVID coming in an messing up everyone's travel plans. I'm confident that once this has all passed, these are enduring locations worth a visit.
Designed by Kelly Wearstler, who makes magic with everything she touches, this is a very special property that blew my mind. Wearstler is able to create modern spaces that are all at once eclectic and conversation provoking – just the right amount of weird and wonderful. Her iconic look plays with scale, the layering of textures and carefully placed eccentric furniture, décor and artwork.
The warm wood cabinets in our studio were inspired by the warm, earthy tones that are explored through the Proper Hotel. Gray has been an overwhelming trend for the nearly the last decade and we are loving these "new neutral" tones that bring warmth into a space.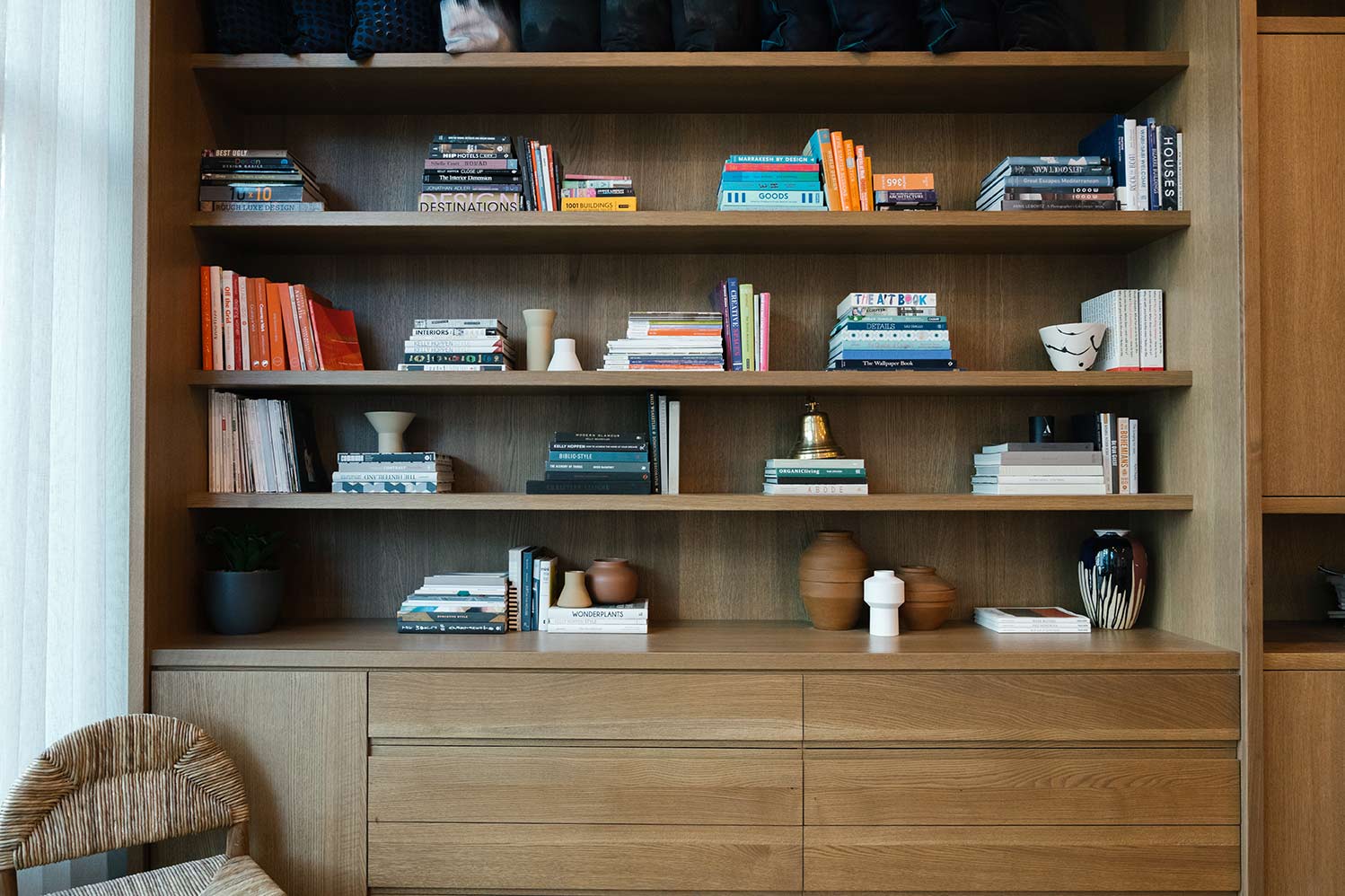 Located in Todos Santos, Hotel San Cristobal had a cool factor that had me in a deep love affair upon entering the property. Unassuming, relaxed and inviting, the hotel pulls from traditional Mexican materials and finishes but does explores tradition with a modern twist, creating a Bohemian, Instagram worthy retreat. A favourite find was the private listening room just off of the front entry with deep seating and tons of pillows.
The colourful mosaic marble tile located in our front entry way reminded me of so many trips to Mexico and inspired the selection of many of the other materials throughout the studio. We complimented the entry tile with a natural green marble that clads the reception desk. Muted rust coloured chairs play off of the terracotta tone in the tile and the Mark Dicey artwork ties it all together.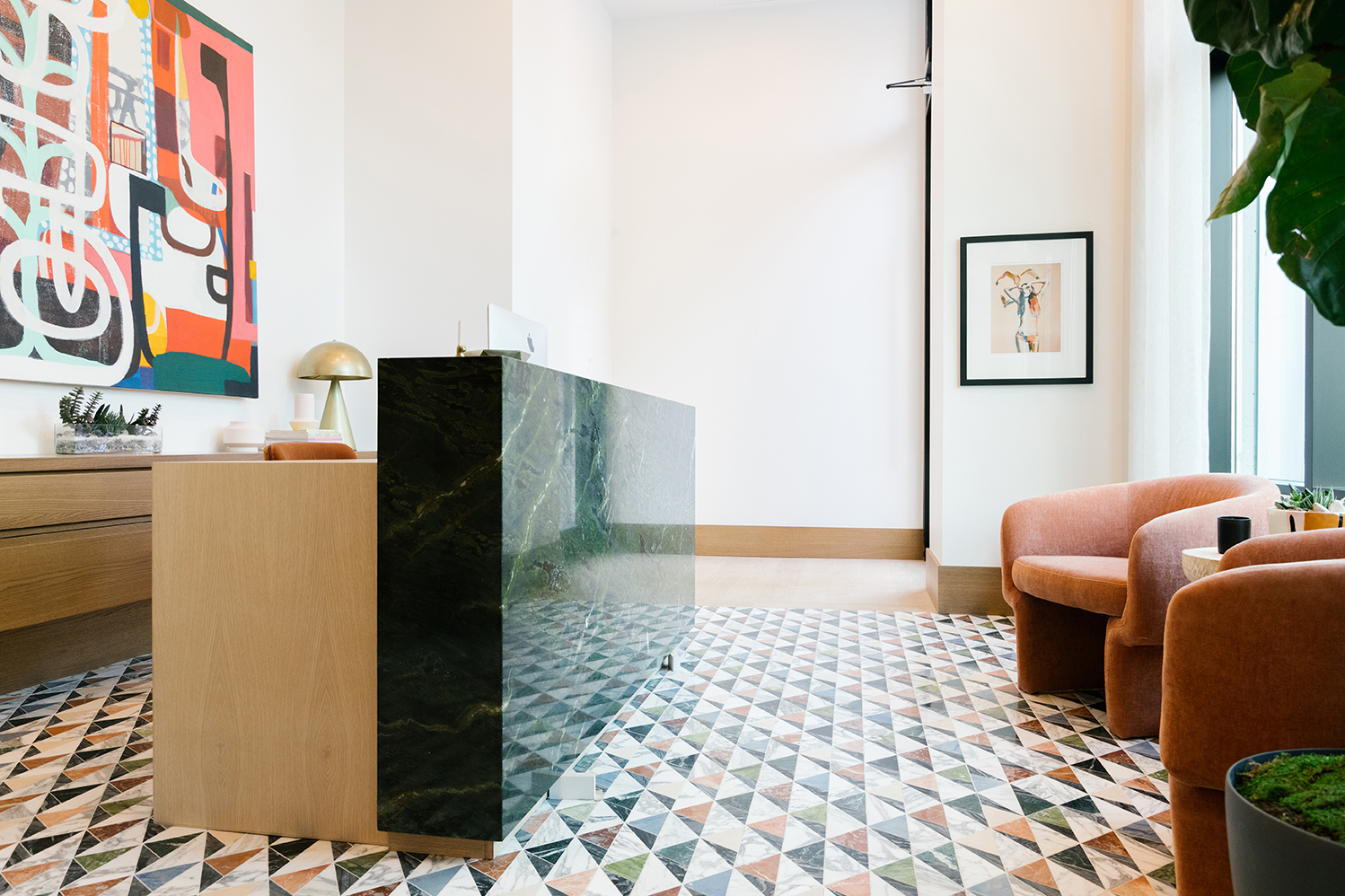 Ah… The South of France, a beautiful maze of hidden gems and coastal beauty. Los Roches, like the properties above, effortlessly cool and laidback. A neutral palette, the lobby had brilliant artwork, artful furniture and a de Sede sectional that snaked through the space. And while we couldn't put a pool in our office (how cool would that be?), I would be remiss in mentioning that there is pool carved out of the existing stone façade of the property that backs into the ocean.
Our long natural wood desks were inspired by the reception which felt more like a collaborative work space versus your traditional check-in desk. A relatively warm, textural palette, our office is punctuated with brightly coloured artwork much like the lobby of Los Roches. Lastly, our 24'+ long banquette was inspired by the sloppy, relaxed banquette seating found in the lounge.