In an attempt to keep this space fresh, vibrant + lively, we've opened up this space for musings to some of the AHID team members, who can only be described as cool, stylish + having hella-good taste. As a collaborative-focused group of women, I feel it is only fitting to share this platform with some of my talented colleagues. Read on to discover our first "guest post" from AHID Team Member + Director of Accounts, Rachelle Babcock, as she shares some musings, inspiration + great spots to eat in this recount of her travels to Montreal, QB. – AH
Hello Bureau readers + thanks for clicking into my travel + design musings. As the world is starting to feel more and more like the world we used to know, I'm back into the swing of exploring, traveling + gathering inspiration from new places. In March, I traveled to Montreal to reinvigorate my senses with a change of scenery and there is no better place than the city of cobblestone, art, history and of course fabulous food and wine. Let's dive in:
Starting out with a personal fave… street art. Montreal is covered in amazing murals, bringing a sense of life + artistry to the city that is truly effortless. Throughout the city, mural art is used to invigorate spaces + bring that sense of je ne sais quoi. The mural below depicts an illustration of Mordecai Richler – an acclaimed French-Canadian author who grew up down the street from here.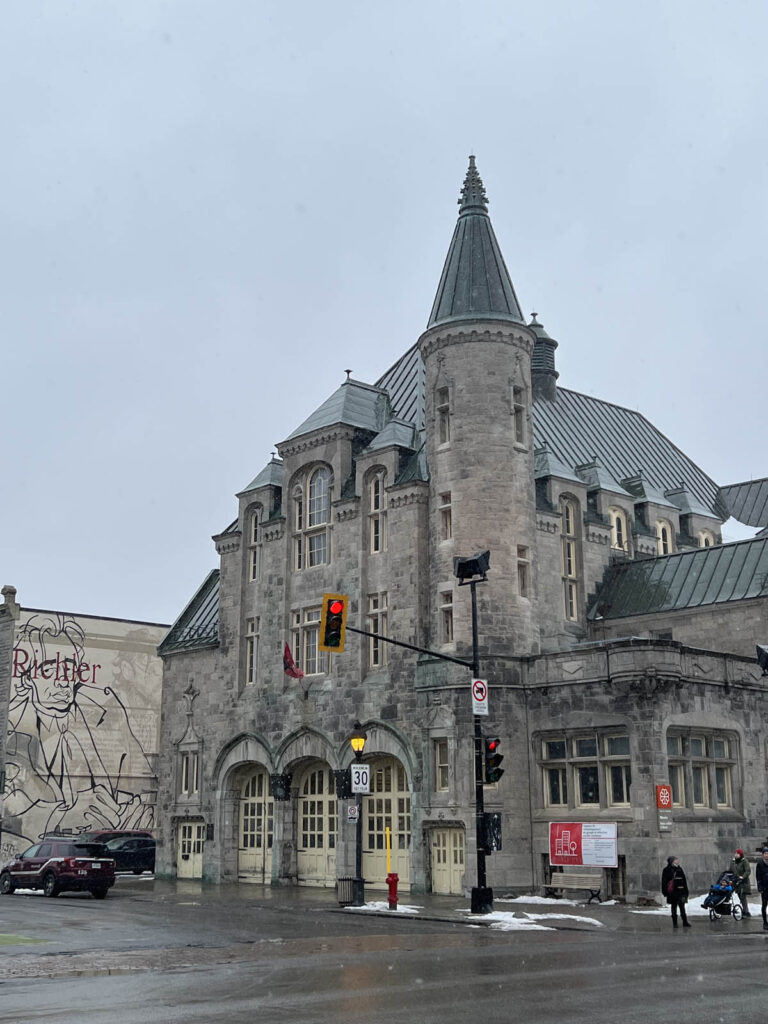 The AHID team is regularly inspired by street art and has used murals like these to add colour and character to interior spaces.  A connection between the physical environment and the design, murals have the capacity to conjoin natural space with a curated creation, providing visual interest. Like these murals, we've also been seeing a resurgence of colour in design + fashion recently, which perhaps speaks to the lack of excitement + exploration that we've been experiencing due to the pandemic over the past 2 years (that felt like a decade!).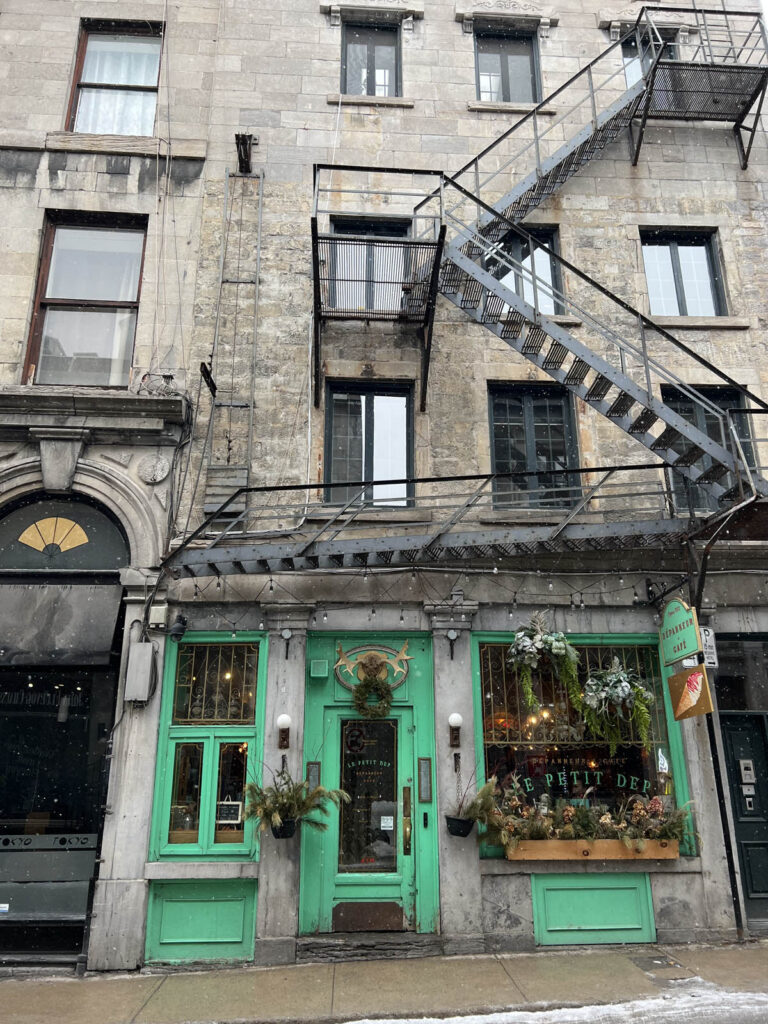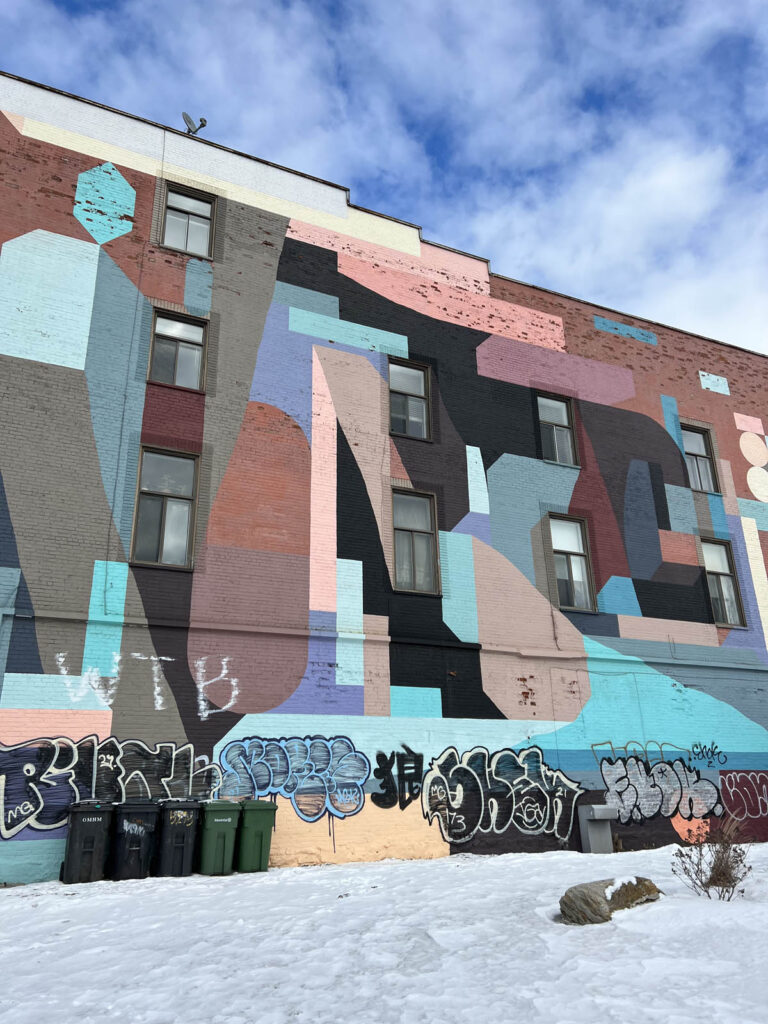 As in all areas of life – there is nothing to fear with bold colours! The general feel of design in Montreal is bold + playful, leaving lots of room for experimentation with bold colours + design. These murals bring tones into the streets, creating a feeling of liveliness on every block.
Taking a cue from the bold colours found in murals, Montreal definitely doesn't shy away from being bold in other aspects like the colour blocking of this building. This multi-coloured, geometric mural inspired other design elements, like the geometric blocking found on the restaurant table: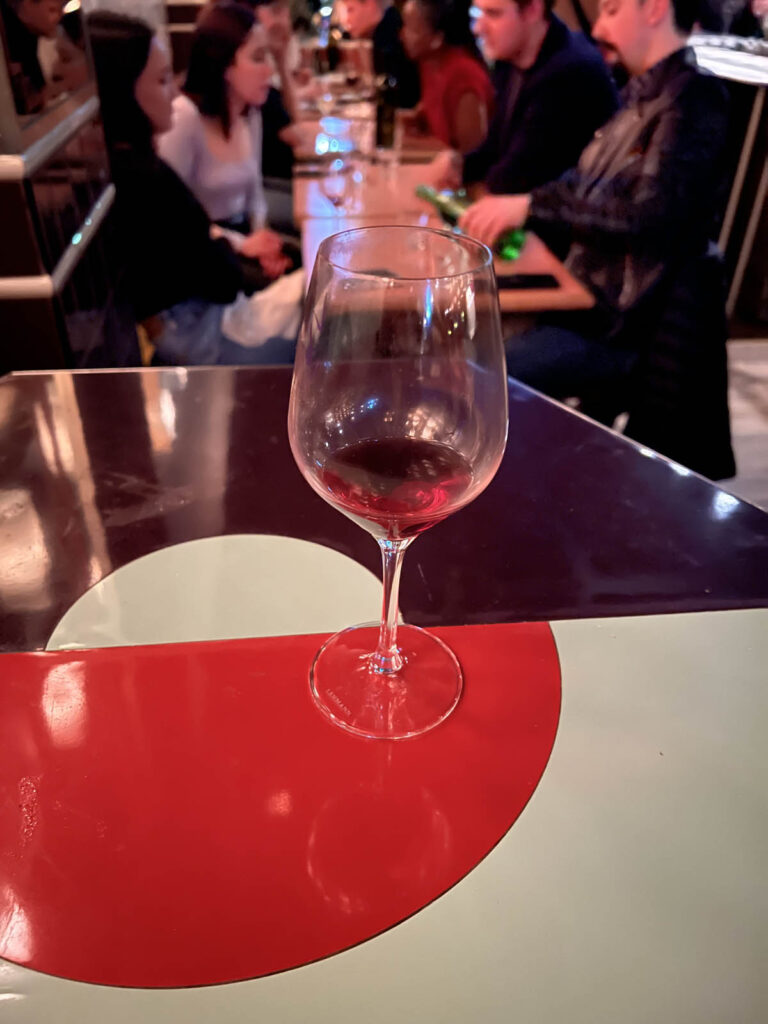 Speaking of bold, there's something to be said about putting modern finishes + concepts into historical buildings (something we love + take every opportunity we have to design in historical spaces – see Rodney's Oyster House here in YYC for an example we love) which is super popular in Montreal due to the existence of amazing historical buildings all over the city.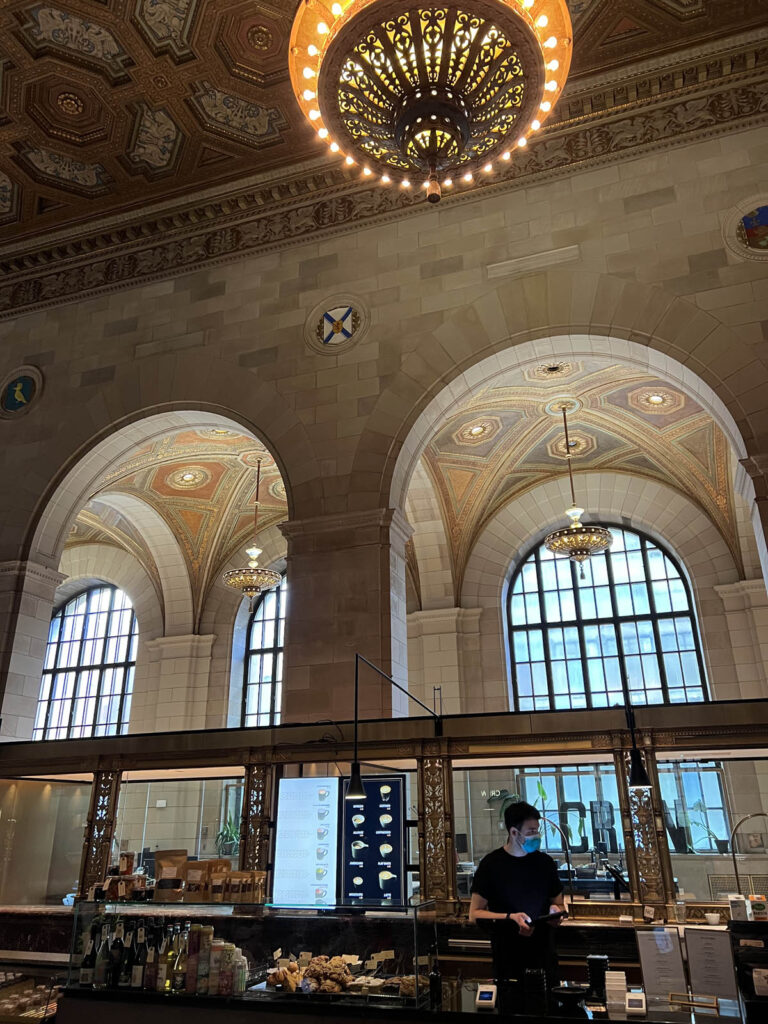 This beautiful cafe is located in an old Bank. The integrity of the building is maintained while juxtaposed with some modern features such as the swing lights.
Below is a restaurant that features a whimsical, hidden banquette that provides a semi-private experience while utilizing the already carved out spaces in a unique + interesting way. The exposed multi-coloured brick gives the space that perfectly imperfect rawness.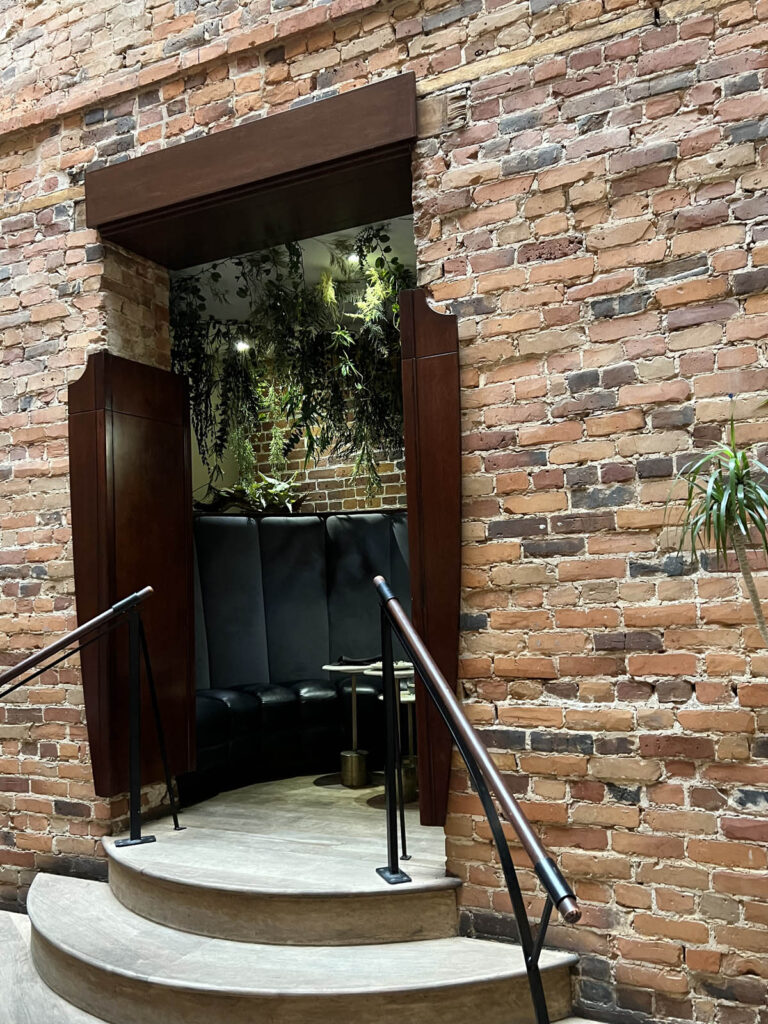 Another amazing space (+ place to dine) is this restaurant, VinVinVin, it had the most amazing open concept design for their version of "wine by the glass" (different from our western-norm of a long list of wine by the glass, the Montreal standard is bottles or a "wine of the day" that can be served by the glass). In this restaurant, this practice is  featured through the polished metal piping that is both interesting + functional for bringing me my fav glass of red.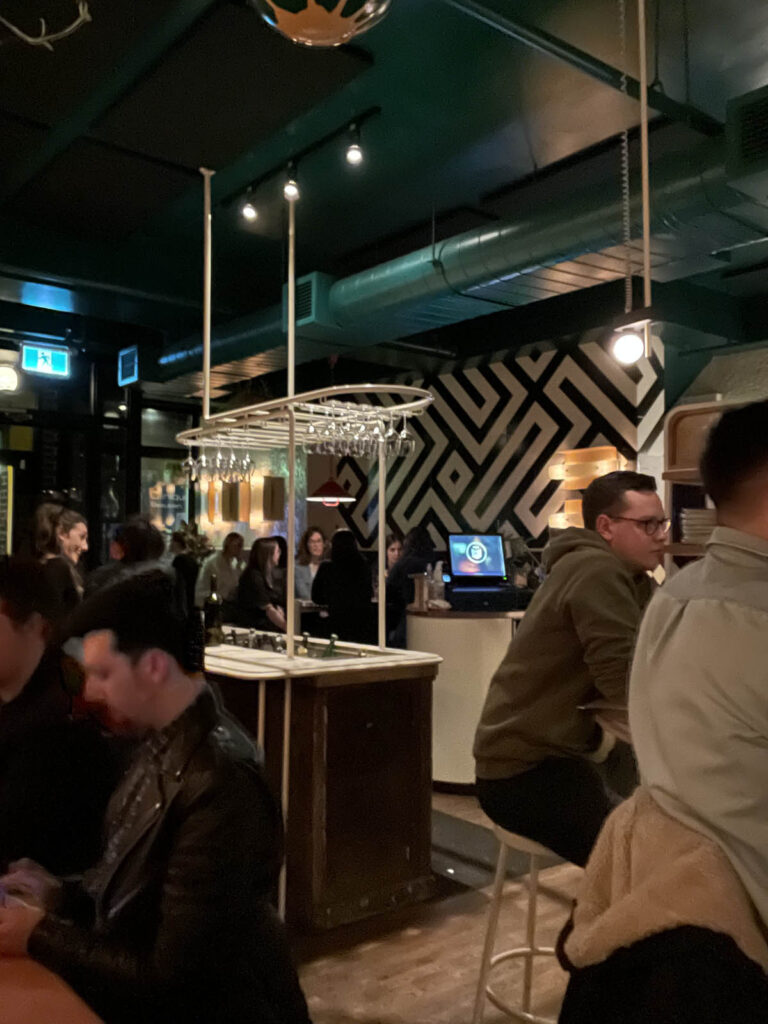 Keeping in the food scene… So many restaurants + businesses have these amazingly playful illustrations that add to the cool feeling of the city. I don't know about you, but anywhere that has this style of logo is just speaking my language.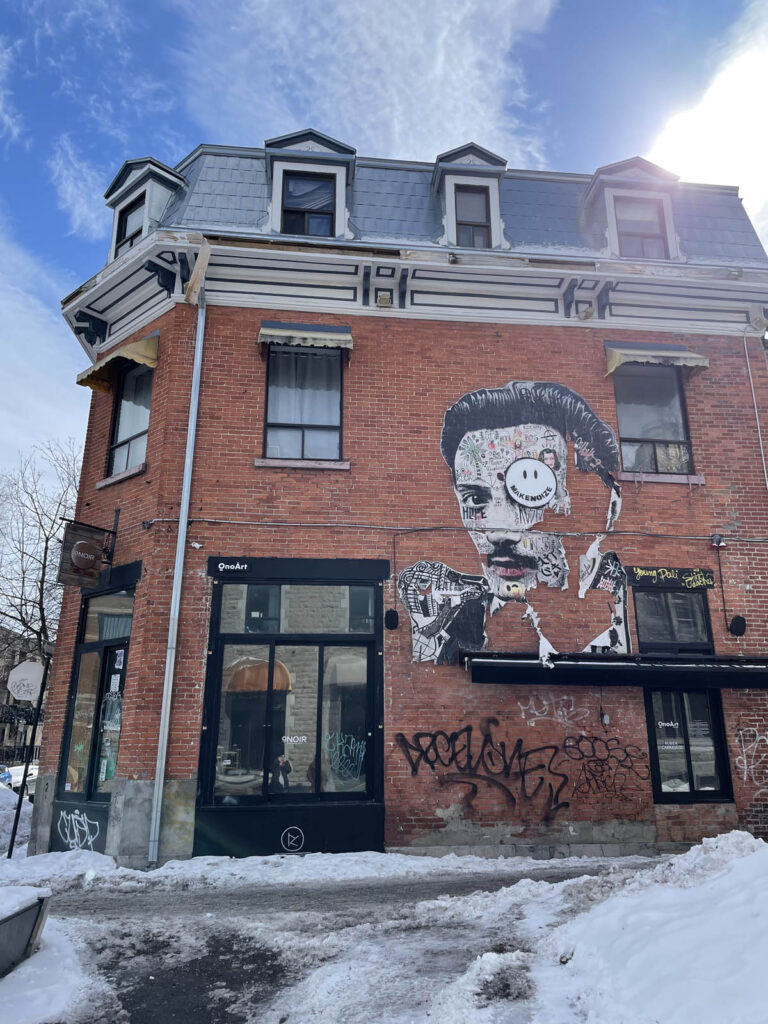 Let us know what your favorite parts of Montreal are or throw your restaurant recommendation in the comments below.